Unite Students' new flagship development in London reaches practical completion
Unite Students, the UK's leading manager and developer of student accommodation, has reached practical completion on its latest development, Hayloft Point.
Hayloft Point, located in the heart of central London, is Unite Student's new flagship purpose-built student accommodation development. It spans 24-storeys and will provide beds for 920 students. It covers 29,000 sq m in total and had development costs of £190m.
Facilities include outdoor and indoor social spaces, modern study facilities, a free gym, as well as a cinema, games and karaoke rooms – all as part of Unite's value-for-money, all-inclusive offer. Students will also benefit from onsite teams providing 24/7 support, as well as secure access and CCTV. Sustainability has been prioritised through the design and development phases with solar panels on the roof, air source heat pumps throughout, and bike storage facilities on each floor.
Hayloft Point has a five-year contract agreed with King's College London to provide beds for it students. The property is fully let for the 2022/23 academic year.
With its proximity to Shoreditch and the City, Aldgate offers easy access to high quality local amenities and excellent transport connections. Over recent years, the area has benefitted from significant investment and boasts a thriving leisure, food and beverage scene.
London is an area of strategic importance for Unite Students. It first entered the market in the capital over 20 years ago in 1998. Since then, it has become the capital's largest operator of purpose-built student accommodation, with c.11,500 beds across the city and almost 4,000 more in its pipeline, including key areas in Stratford, Hackney and Tower Hamlets.
The capital is the UK's largest student market but suffers from a significant student accommodation shortfall. Unite Students is well-placed to operate in the city, due to its strong university relationships, as well as a development team with extensive experience navigating the complex planning environment in London.
Nick Hayes, Group Property Director at Unite Students, said:
"The practical completion of Hayloft Point represents a significant milestone in our London growth strategy. With the support of one of the UK's leading universities, King's College London, in delivering this, it also reflects our success in building valuable long-term partnerships with key higher education institutions.
"There remains a huge opportunity to meeting growing demand across London – where there remains a significant undersupply of high-quality, affordable accommodation. This new building represents a truly market-leading offer for students – placing them in the heart of the action, in the centre of London – and with unbeatable amenities."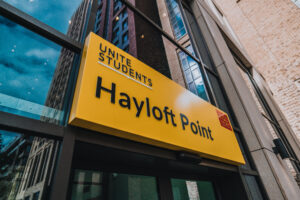 Further information available: Hayloft Point factsheet
For further information, please contact:
Unite Students
Tel: +44 117 450 6300
Press.office@unitestudents.com
Notes to editors:
About Unite Students
Unite Students is the UK's largest owner, manager and developer of purpose-built student accommodation (PBSA) serving the country's world-leading higher education sector. Hayloft Point is one of two new properties that Unite Students is opening for the 2022 academic year, the second being Campbell House, Bristol.
We provide homes to 74,000 students across 172 properties in 25 leading university towns and cities. We currently partner with over 60 universities across the UK.
Our people are driven by a common purpose: to provide a 'Home for Success' for the students who live with us. Unite Students' accommodation is safe and secure, high quality, and affordable. Students live predominantly in en-suite study bedrooms with rents covering all bills, insurance, 24-hour security and high-speed wi-fi. We also achieved a five-star British Safety Council rating in our last audit in 2020.
We are committed to raising standards in the student accommodation sector for our customers, investors and employees. This is why our new Sustainability Strategy, launched in 2021, which includes our social impact strategy with a significant focus on providing opportunities for all. Our Leapskills programme is endorsed by the Department of Education.
Founded in 1991 in Bristol, the Unite Group is an award-winning Real Estate Investment Trust (REIT), listed on the London Stock Exchange. For more information, visit Unite Group's corporate website www.unite-group.co.uk or the Unite Students' site www.unitestudents.com