A safe student experience in Leeds with Unite Students
During our 2021 welcome week, we spoke to our teams in Leeds – where we operate 11 properties – to find out how they're going above and beyond to keep students safe as they adapt to living independently and making the most of their student experience.
Over the past 18 months, being 'safe' has largely revolved around Covid-19 and taking measures to combat it. And, make no mistake, Covid-19 measures are still a vital part of how we'll be keeping students safe throughout the 2021/22 academic year.
But with this year's return to campus feeling rather more 'normal' than last year, the broader scope of student safety comes into view. How do we keep students safe on nights out? Are there any spikes in crime that might affect the students living with us? How can we keep students informed about the safety measures we have in place?
When we visited Leeds earlier this month during a welcome weekend, we found out how our teams across the city are keeping students safe as they adapt to their new surroundings.
A city-wide network that keeps students safe
Area Manager Tatjana Walker shared in February how Unite Students participates in the UK Town and Gown Association (UKTGA), which allows our teams to – for example – stay alert to any local trends of crime that might affect the students living with us. This is just part of a wider network of information and support that we've built across the city: we also share city-wide intel and best practice with our university partners, other PBSA providers, and police in order to keep students safe across Leeds.
The teams also regularly meet with Leeds's biggest club promoter, Voodoo Events, to check in. Voodoo, in turn, come to selected Leeds properties during welcome weekend to share information about Freshers' events with new arrivals, as well as safety-focused materials that encourage a safe experience for students exploring the local nightlife.
We're also connected with local health services and, in light of the pandemic, there's been a renewed effort to encourage students to sign up with their local GP, as well as sharing information about local surgeries, walk-in clinics and sexual health services – another important aspect of student safety. In a survey that went out to students ahead of the academic year beginning, we found that 65% of students coming to live with us in Leeds weren't confident of how to register with a medical practice – so our Leeds team brought them into properties for welcome week to allay some of these worries and demystify the process.
Encouraging a safe night out in Leeds
In our June round table about the needs of incoming students, it was raised that students may have missed out on formative experiences such as going clubbing for the first time and, as a result, may be more naïve about staying safe on a night out.
Fortunately, our Leeds properties have an initiative called 'Safe Haven', which allows any student – whether they're living with Unite Students or not – to safely wait in the lobby of these buildings for a taxi to take them home. Voodoo Events works with trusted local taxi companies so that students across the city are able to access safe (and discounted) journeys late at night.
Students seeking a 'safe haven' are granted access to our properties by using a buzzer to contact our Emergency Contact Centre (ECC), which prompts one of our Safety team members – who are monitoring the sites from their desks – to go and help out. These teams have undertaken conflict management training, allowing them to approach and manage any attempts to tailgate students into our properties. It's important to us to do our bit to keep all students safe across Leeds, without compromising the safety of the students who live with us, and working with our competitors on this has been a real success.
Our Leeds properties also have 'hydration stations' at night, allowing students coming in from a night out to easily access water and stay hydrated – and if they're lucky, there may also be some food on offer!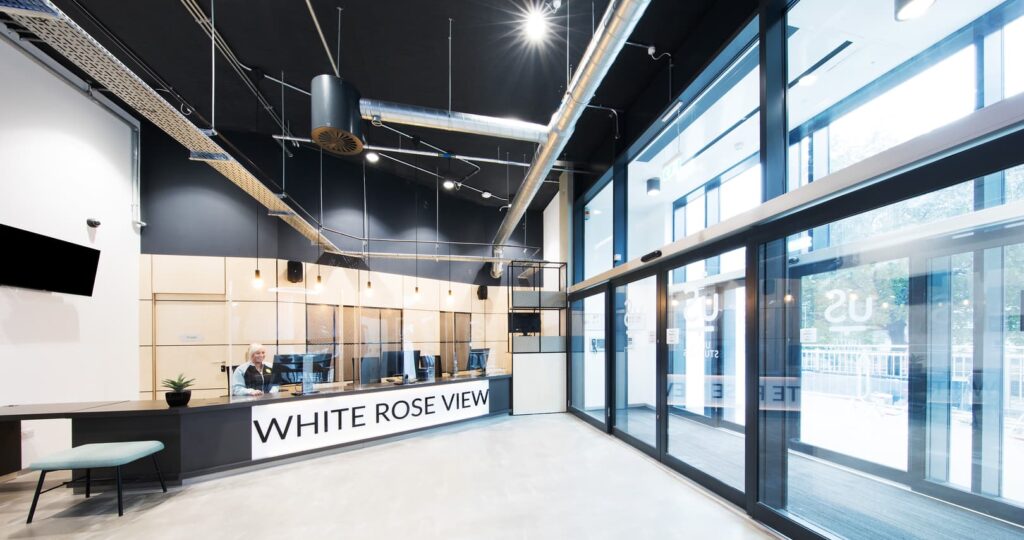 Keeping students informed about what's on offer
It's important to start communicating safety measures to students from the very start, and this begins with our pre-arrival communications, which are sent out at national level. These include signposting to a number of resources such as a welcome guide to their property, which features information on the city, building layout and what keys they'll receive; information on who does what in their property so they know where to get help from our safety teams and report any issues; and the MyUnite app, which offers functionality to get to know flatmates and neighbours in advance of arrival, as well as responding to lock-outs and maintenance issues.
After arrival, students are sent information regarding out of hours support, tailgating awareness, our Home Charter – which outlines what they can expect from us in terms of safety – and emergency contacts. The emergency contacts page is one of the most-visited pages on our student-facing site, The Common Room.
There are also plenty of local initiatives to keep students informed in Leeds from the moment they arrive. City maps are handed out on arrival, while check-in surgeries are used to share safety information in the first week of arriving. Our teams go to great efforts to highlight the importance of the ECC number and where to access out-of-hour help, and share cards which signpost students to ways in which they can contact our teams and have QR codes directing them to further information online, including details of our other properties across the city so they can always seek help in a nearby Unite Students building if necessary.
On our visit to The Plaza earlier this month, there were stalls set up for Voodoo Events and Burton Croft Surgery in the building lobby so that they could share sign-up forms, fliers and information about their services – not to mention discounts and goody bags. The surgery flier included a handy QR code to take students straight to a web link that allows them to register as a new patient, as well as the address, opening times, a rundown of what services are suitable for the pharmacy, and where to access local mental health and sexual health services.
Additional support comes in the form of subwardens at four of our sites, hired by the University of Leeds. Subwardens work – and in some cases, live – on-site, regularly meet with our teams, and are able to reiterate some of these key safety messages to the students in their properties.
While we've used Leeds as a case study in this instance, there are safety initiatives in place across all 25 of the cities that Unite Students operates in, and we work with all of our university partners to ensure a safe and secure experience for the 74,000 students that live with us each year. In one city, for example, we worked closely with our local university partner to provide a quick and unified response to reported incidents of drink spiking. Our city teams will always put students first and, where possible, adapt and respond to whatever's going on locally.
If you'd like more information about the safety measures in place in your city, please contact your regional Head of Operations.