Unite Students completes new £57m property to house 705 students in Nottingham
Unite Students' 705-bed property in Nottingham is now complete
£57m Morriss House has an amphitheatre and a biodiverse open space connecting the site to the River Leen and University of Nottingham's Jubilee Campus
The building has the largest amount of study and social space in Unite Students' portfolio, with a special 'welcome hub' reception
Students have begun moving in for the start of the 2023/4 academic year
Unite Students, the UK's largest provider of student accommodation, has completed work on its new £57million property in Nottingham.
The 705-bed development, Morriss House, is located next to the University of Nottingham's Jubilee Campus and is now welcoming students at the start of the 2023/24 academic year.
The property, on Derby Road in Lenton, consists of 665 shared flats with en-suite bathrooms and 40 studio apartments. It contains net-zero carbon features, running on renewable electricity with solar panels installed on the roof and an all-electric heating system, including air-source heat pumps.
Green public open space connects the development to the River Leen and University of Nottingham campus and includes an amphitheatre. Inside, Morriss House has the largest study and social spaces in Unite Students' portfolio and an open reception providing a 'welcome hub' for students.
The development, previously a former car showroom and garages, also provides a commercial building for external use.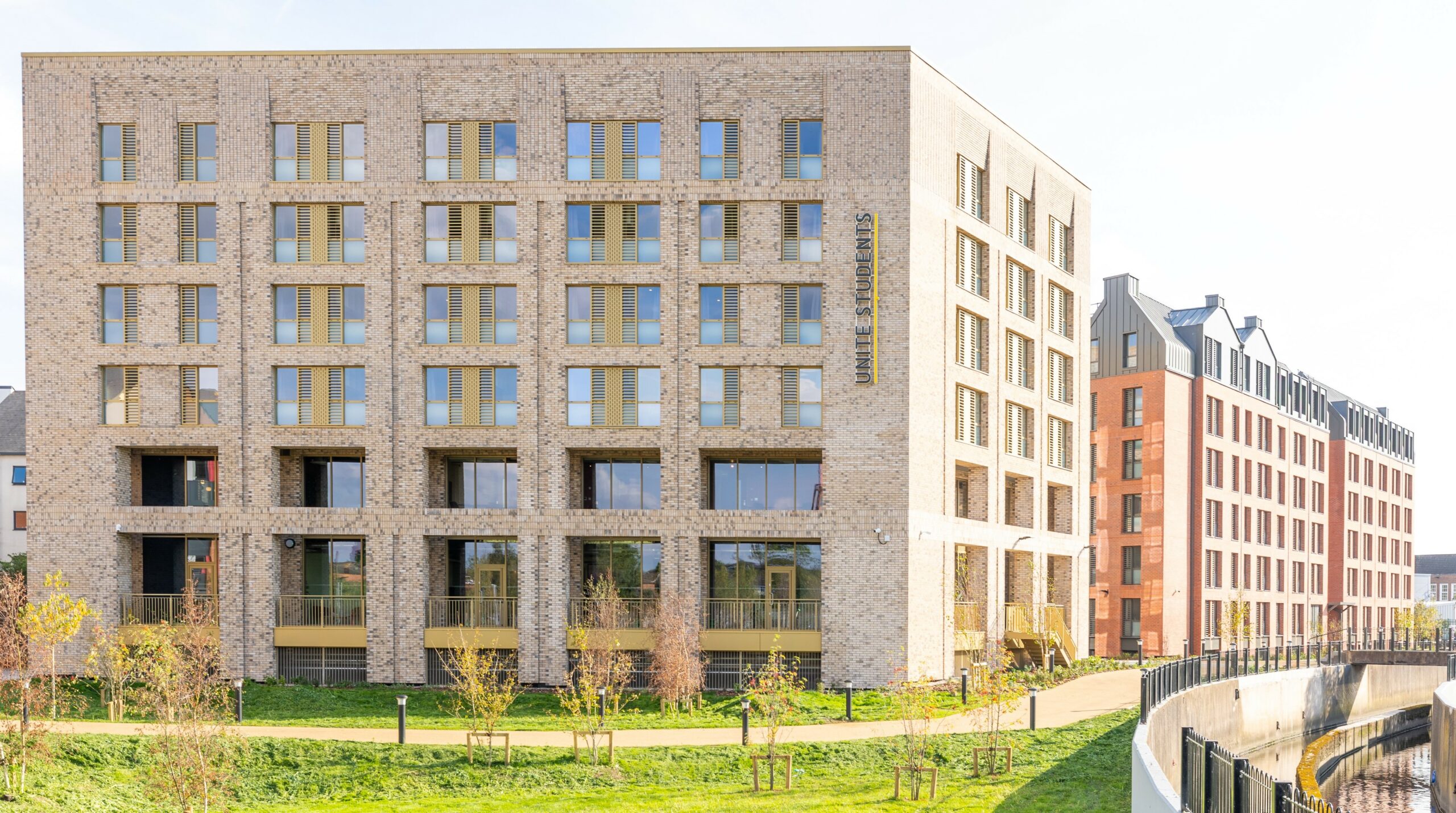 Tom Brewerton, Group Development Director at Unite Students, said:
"We're delighted to have completed our latest addition to the portfolio, Morriss House in Nottingham. Morriss House is an impressive property delivered on time and budget for the 2023/24 academic year. This importantly allows us to take another meaningful step forward to being net zero carbon by 2030 through the introduction of solar panels, air source heat pumps, a biodiverse wildflower meadow and an amphitheatre to promote wider social interaction for our students and staff.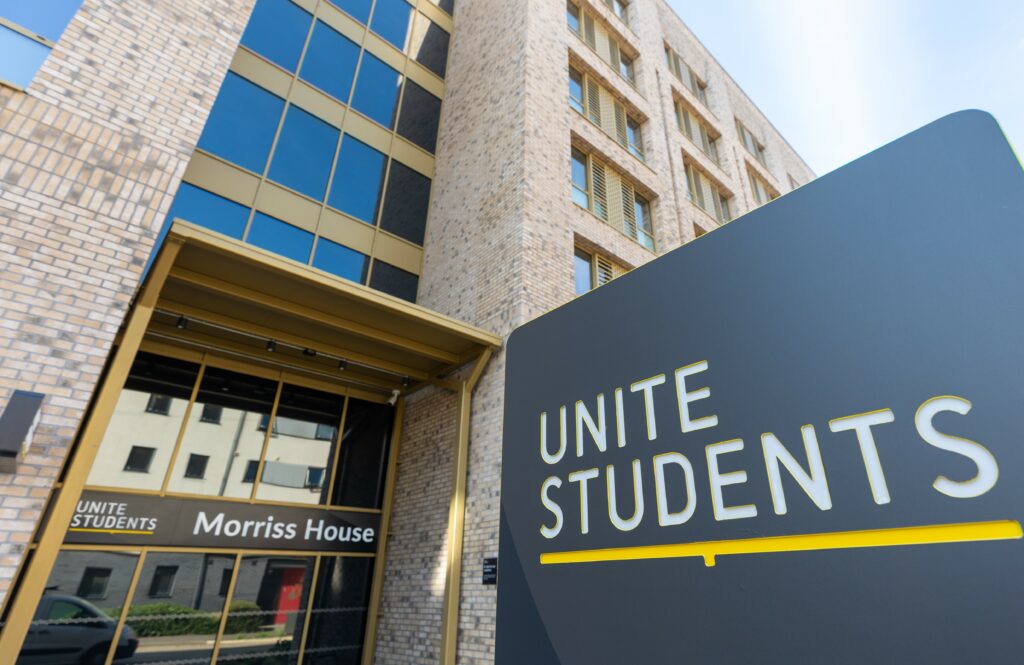 "The design of our buildings continually evolves and on this project we have swapped the traditional reception area with a new welcome hub. This is a first for our students and, along with the impressive study and social spaces in this property, we are looking forward to our students using and enjoying the spaces throughout this academic year and beyond."
Vikki Welch, Associate Director Student Living at the University of Nottingham, said:
 "Through Nottingham's new Student Living Strategy, we've pledged to work in partnership to provide really good quality accommodation choices to our students. Our decade-long partnership with Unite Students, and particularly this new property right next to our Jubilee Campus, are a great example of how it can work well. Morriss House is an amazing building, providing a great lifestyle and accessibility to the university."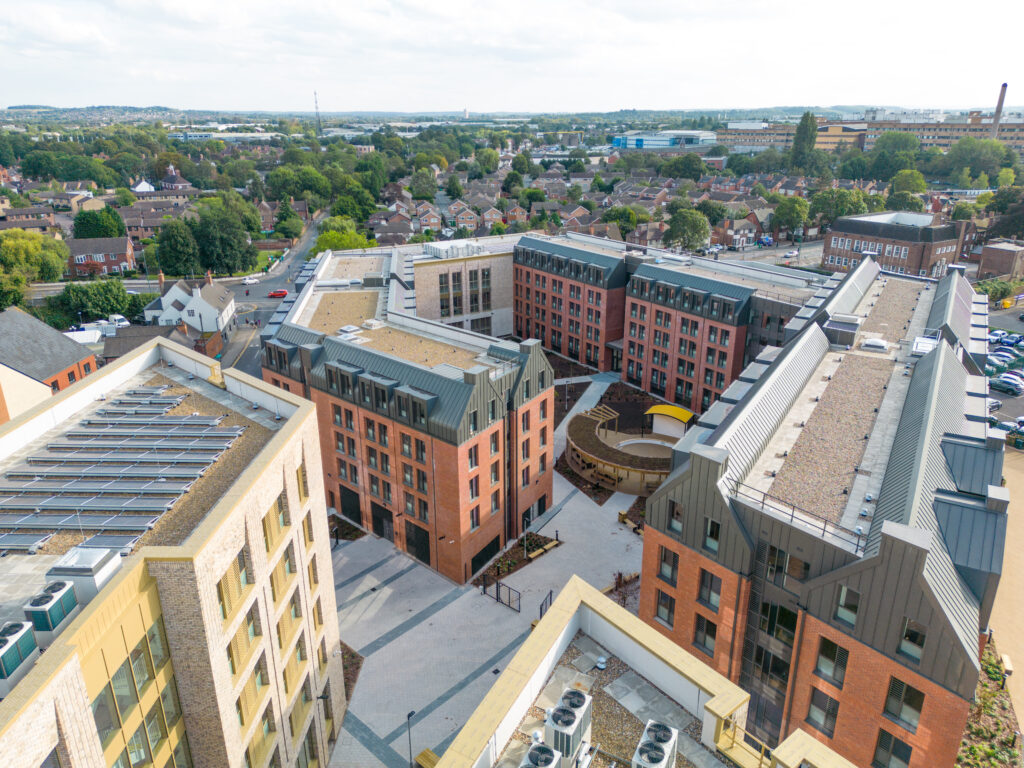 Unite Students is also building a 271-bed property on Lower Parliament Street, Nottingham, in time for the start of the 2024/25 academic year. Bromley Place, costing £34million, will incorporate an existing late-Victorian, three-storey building, preserving the historic features from the original site.
About Unite Students
Unite Students is the UK's largest owner, manager, and developer of purpose-built student accommodation (PBSA) serving the country's world-leading higher education sector. We provide homes to 70,000 students across 157 properties in 23 leading university towns and cities. We currently partner with over 60 universities across the UK.
Our people are driven by a common purpose: to provide a 'Home for Success' for the students who live with us. Unite Students' accommodation is safe and secure, high quality, and affordable. Students live predominantly in en-suite study bedrooms with rents covering all bills, insurance, 24-hour security and high-speed Wi-Fi. We also achieved a five-star British Safety Council rating in our last audit.
We are committed to raising standards in the student accommodation sector for our customers, investors, and employees. This is why our new Sustainability Strategy, launched in 2021, includes a commitment to become net zero carbon across our operations and developments by 2030.
Founded in 1991 in Bristol, the Unite Group is an award-winning Real Estate Investment Trust (REIT), listed on the London Stock Exchange. For more information, visit Unite Group's corporate website www.unitegroup.com or the Unite Students' site www.unitestudents.com