Unite Students announces £65million upgrade to three Manchester properties
Refurbishment projects taking place across three Unite Students properties in Manchester – Parkway Gate, Kincardine Court and New Medlock House
Upgrade work will create new beds, enhance sustainability with improved EPC ratings and see installation of upgraded cladding for enhanced fire safety
Includes a 92-bed new build extension at Kincardine Court; and 14 additional beds at Parkway Gate
Unite Students, the UK's largest student accommodation operator, today announces a £64.58million upgrade across three of its Manchester properties – Parkway Gate, Kincardine Court and New Medlock House. Work on all three is due to be completed by September, the start of the 2022/ 23 academic year.
The projects, which are already underway, will see the creation of over 100 new beds in total, as well as fire safety enhancements, in line with the latest Government regulations, and enhancements to enable more sustainable day-to-day operations.
Parkway Gate is undergoing a £38million refurbishment. There will be significant alteration to the outer shell of the building for fire safety improvements as well as a full internal re-work, creating a new common space with a gym, cinema room and study areas. 14 new beds will be added as part of the work, bringing the total to 754. New air source heat pumps and windows will also be installed throughout the property, improving environmental performance.
Image: Parkway Gate prior to refurbishment work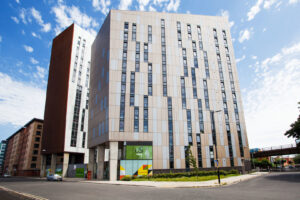 Image: Computer generated image showing how building will look once refurbishment is complete
Work at Kincardine Court includes a £12.1million 92-bed new build extension, as well as a £3.28million refurbishment of the existing property to enhance its EPC rating. New features will reduce water wastage and boost energy efficiency, including a smart energy management system. In trials, water use at the property has been reduced by 50%.
New Medlock House is undergoing a £11.2million refurbishment to enhance its EPC rating. Much of the focus here will be on environmental enhancements, with the installation of air source heat pumps and improvements to the solar panel system, amongst other measures.  
Tom Brewerton, Group Development Director at Unite Students, said:
"These projects represent a significant investment for Unite Students. The enhancements reflect our current priorities: the day-to-day happiness of our residents, strong partnerships with leading universities, and the well-being and safety of all those who live and work in our buildings.
"The business recently launched its refreshed sustainability strategy and pathway to net zero by 2030. Upgrades like these in Manchester form a central part of the journey. We are determined to operate in the most sustainable and resource-efficient way we can.
"Work continues at pace, and we look forward to welcoming students back to the new and improved properties at the start of the next academic year."
ENDS
For further information, please contact:
Unite Students
Unite press office                                                                  Tel: +44 117 450 6300
Powerscourt
Courtney Sanford                                                                 Tel: +44 779524 2564
About Unite Students
Unite Students is the UK's largest owner, manager and developer of purpose-built student accommodation (PBSA) serving the country's world-leading higher education sector. We provide homes to 74,000 students across 172 properties in 25 leading university towns and cities. We currently partner with over 60 universities across the UK.
Our people are driven by a common purpose: to provide a 'Home for Success' for the students who live with us. Unite Students' accommodation is safe and secure, high quality, and affordable. Students live predominantly in en-suite study bedrooms with rents covering all bills, insurance, 24-hour security and high-speed wi-fi. We also achieved a five-star British Safety Council rating in our last audit in 2020.
We are committed to raising standards in the student accommodation sector for our customers, investors and employees. This is why our new Sustainability Strategy, launched in 2021, includes a commitment to become net zero carbon across our operations and developments by 2030.
Founded in 1991 in Bristol, the Unite Group is an award-winning Real Estate Investment Trust (REIT), listed on the London Stock Exchange. For more information, visit Unite Group's corporate website www.unite-group.co.uk or the Unite Students' site www.unite-students.com