PRIDE: "I can thrive and be myself at Unite Students"
Creating a space of belonging for people who live and work with Unite Students is important to us. During June – Pride Month – we published our three-year Diversity, Equity, Inclusion, Belonging (DEIB) and Wellbeing strategy.
Today marks the 50th anniversary of the UK's first official pride march, which was held in London on July 1, 1972. A lot has changed in  50 years. We've caught up with two of our LGBTQ+ employees to understand what working at Unite Students in 2022 means for them.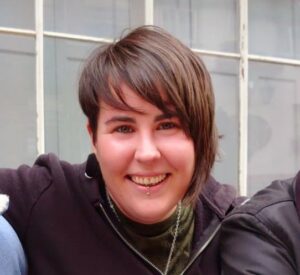 Karly Press
Estates Manager based in the Bristol city team
Joined the business in January 2013
My experience of being a lesbian working for Unite Students has overall been really positive. I feel included and welcome by all the teams I have worked with over the years. I have never felt discriminated by anyone who works at Unite Students.
When I have experienced discrimination in the past during my years at Unite Students, however, it has always been from members of the public. I remember one particular incident when I was at Blenheim Court and an aggressive man attacked me. He had an issue with gay people and verbally abused me before slapping my face. This incident ended in a court case and he received fines and two restraining orders (one from the property and one from me).
I feel I have grown throughout the years working for Unite Students. I have developed skills in work and also outside of work. I 100% take the approach that if someone has a problem with my sexuality, it is their problem not mine. When I was younger, I would sometimes worry about how I would be perceived by people or if I was being judged before they knew me. I no longer have those worries. I feel this is because I've been in a consistent and positive environment where I can thrive and be myself. I can talk openly about my life, my partner and our lives together. I have had previous jobs where I haven't felt comfortable talking about my personal life so wouldn't open up at all, which wasn't a nice environment to work in.
There is a great focus from our senior leaders at Unite Students which is so important. DEIB is being taken seriously and something we are constantly talking about, which needs to continue. It is just one of many reasons why I love working for Unite Students.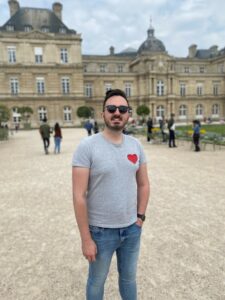 Charles Sartain  
Digital Content Manager in Marketing, based in our Bristol head office  
Joined the business in June 2021
Thinking about pride month and what it means to my community reminds me of how lucky I am. Since first coming out at the age of 20 and living in the progressive city that is Bristol, I've never had to hide myself at work, or in my personal life. Not everyone is as fortunate as me, even in the UK. Pride helps provide a voice for queer people and bring us to the spotlight. It's so refreshing to see how much more representation there is in the media today, compared to when I was growing up.
This is one of the main reasons I love and support pride so much. Growing up I knew I wasn't the same as my school friends from as young as 4 or 5. Before I even understood myself, some less than friendly school peers had worked out that I was gay and took it upon themselves to make me feel like it was wrong, a joke and a reason to bully me. Those knocks stay with you. But as I've got older, I understand that rather than being angry or upset at them, I should proudly be my authentic self so other kids don't have to go through that.
Inclusivity at work is so important and one of the reasons I decided to apply for a role at Unite Students was their well-documented inclusivity and years of support for Bristol Pride.
2022 is a special year as we get to re-join our communities in person after two years of pandemic separation.
I hope that we can continue to push the boundaries for LGBTQ+ people, both in education, social life and the workplace so that everyone can experience the acceptance I have been so lucky to experience.
If you need to talk to someone about any of the issues raised in this blog, you can contact Student Minds or Switchboard for LGBTQ+ support.