Asset Management
Creating value through asset management projects in our estate.
Creating value through asset management projects 
In addition to our development activity, we see significant opportunities to drive superior rental growth, improve the environmental performance of our buildings and create value through asset management projects across our estate.
These projects typically have shorter lead times than new developments, often carried out over the summer period, and deliver attractive risk-adjusted returns.
In conversation with: our Asset Management Director
Claire Barber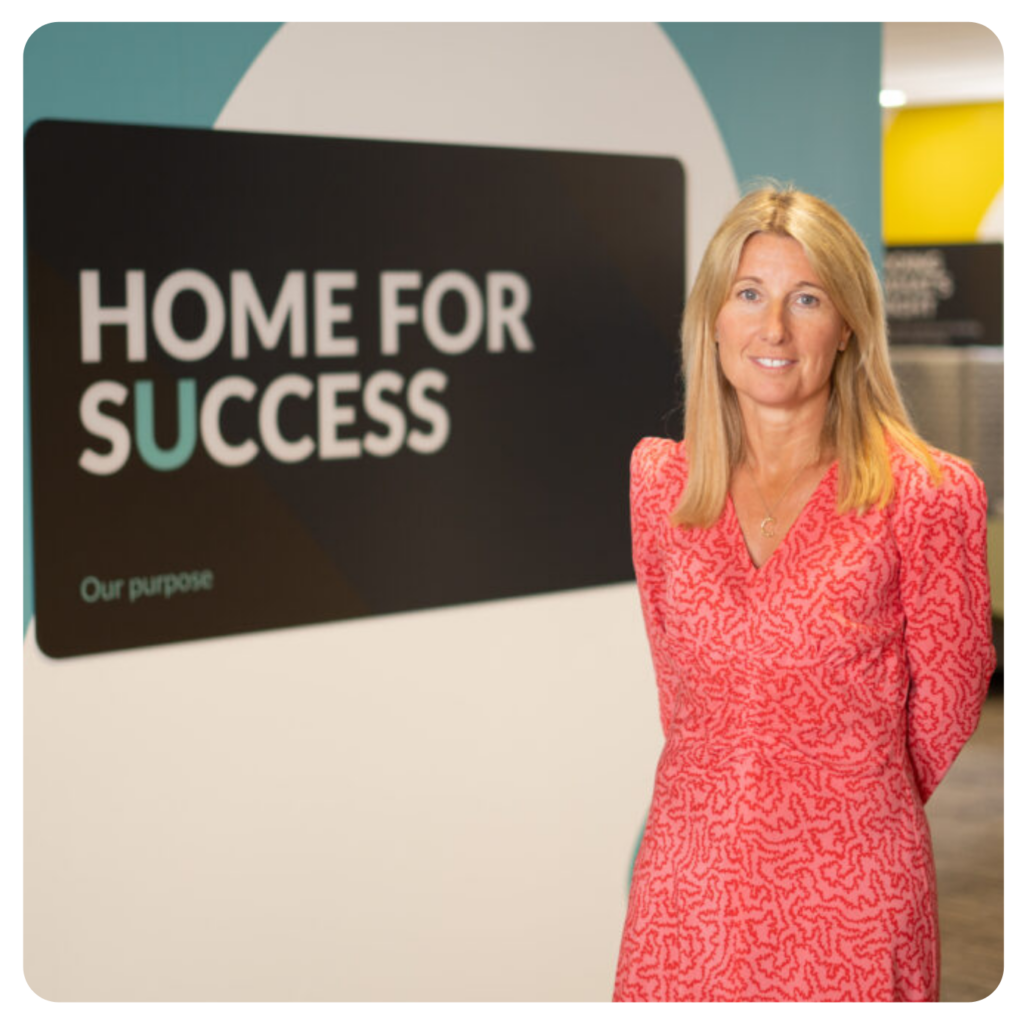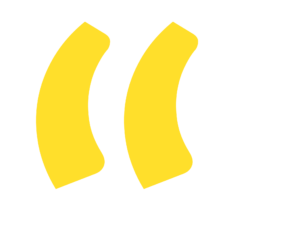 We are creating spaces where our students want to live, and where they feel they belong. A huge amount of thought has gone into our new designs and this really addresses how we can improve the student experience – the feeling of more space in bedrooms and space to socialise and relax.
£24million upgrade to three properties
The investment is being made at Station Court in London, Oak Brook Park in Birmingham, and Bridge House in Edinburgh. The projects, which will complete this year, will see improvements to student bedrooms, bathrooms, kitchens, common areas, as well as enhancements to improve the environmental performance of the buildings.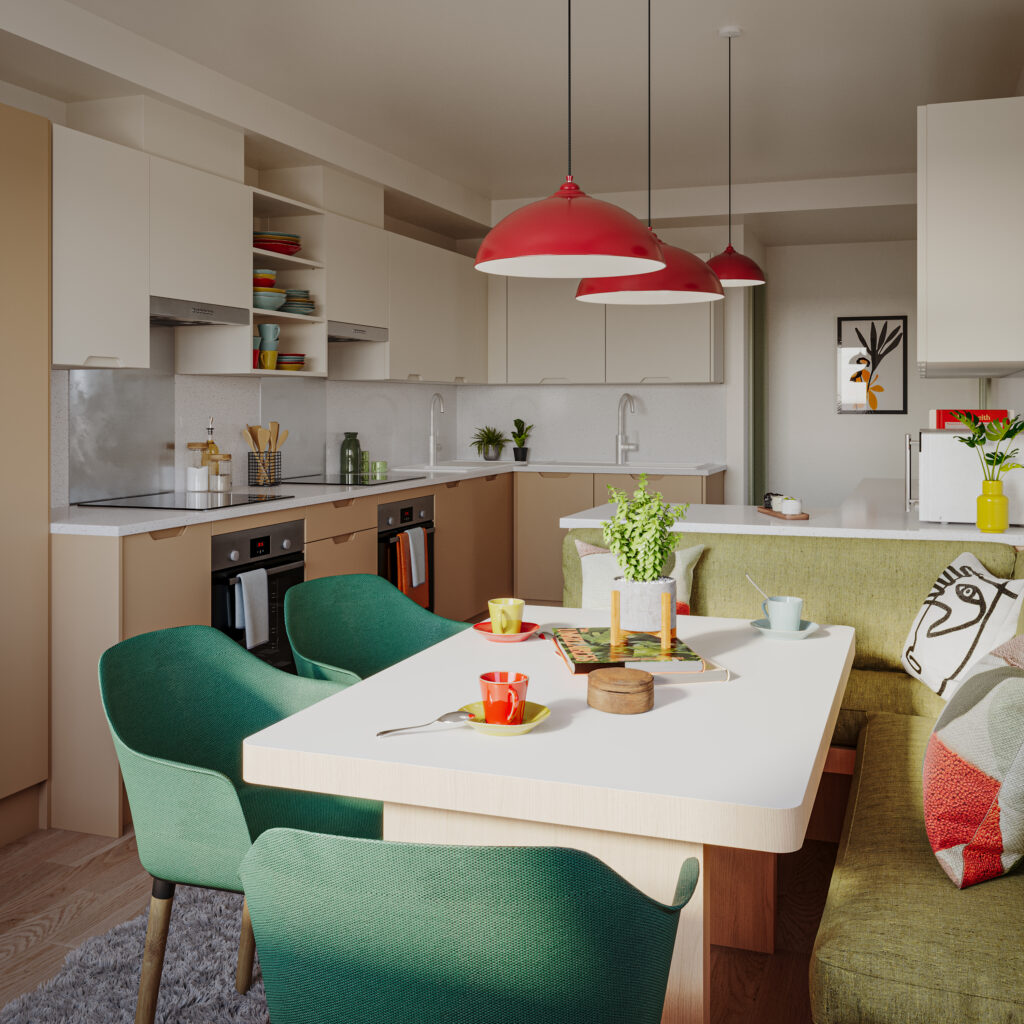 Refurbishing major London property
The £1.5 million refurbishment project of our Stratford ONE property in East London includes a raft of improvements focussed on the needs of our students.
Updates have been made to the ground and near-top levels of our 28-storey Stratford ONE property, next to the Queen Elizabeth Olympic Park.
The building, on International Way, is home to more than 1,000 students and is part of the legacy of the 2012 Olympics.
Upgrades were completed to the reception, mezzanine and podium level, and our sky room on the 26th floor.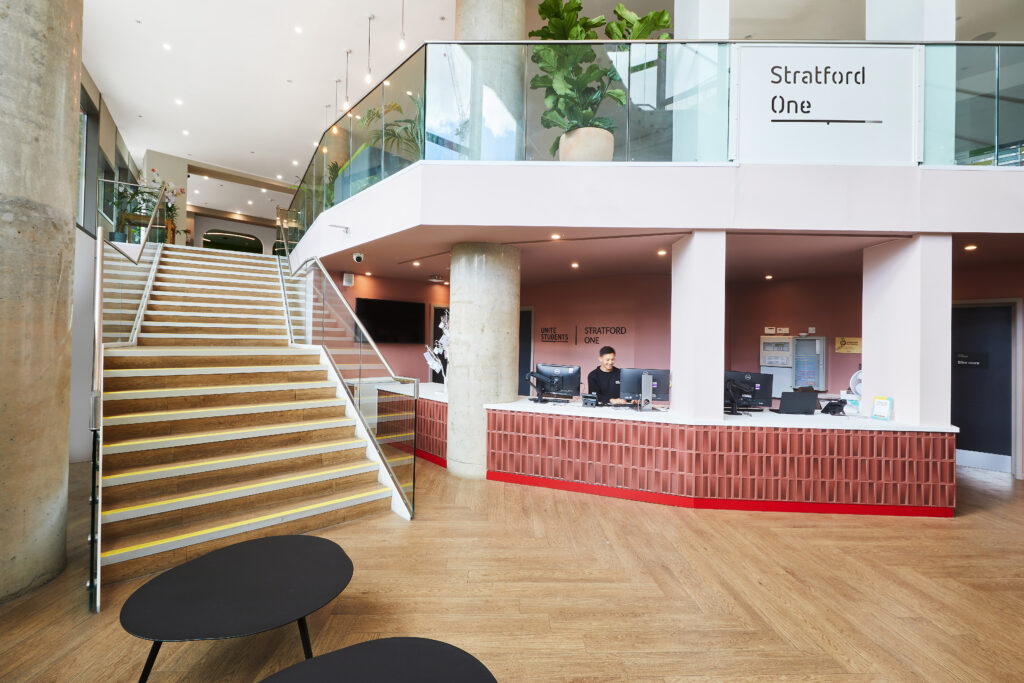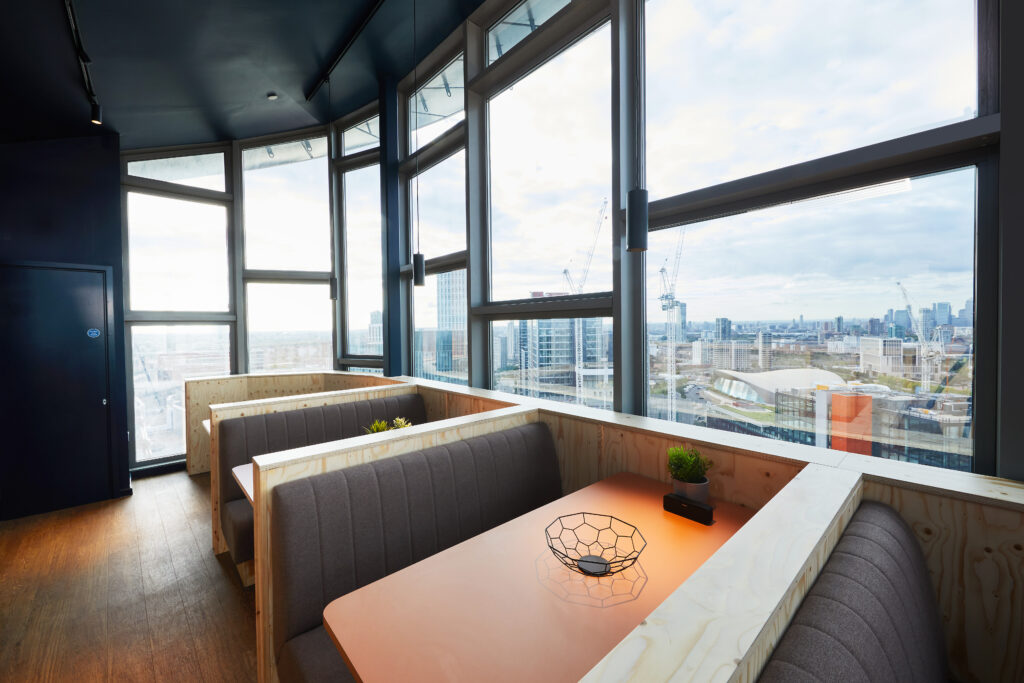 After discussions with our students, it came to light that study space away from their rooms was sought after. Also, purpose-built social space.
We listened to our students and delivered! On the mezzanine level, we created a new movie room. This is equipped with a 100inch screen, cinema sofa seating with raised levels and mood lighting.
We also installed a karaoke room – with dimmed disco lighting, soundproofed walls and upgraded speakers – a gym with the latest equipment, and gaming area – also with a 4k screen. The second part of our mezzanine level has been created for students to relax and socialise, with study booths and dedicated rooms for group work. We have created four mini booths to hold up to three people and four big rooms to accommodate up to 10 in each for group work. Six open booths have been created to provide additional study space.
The podium has sectioned booths for socialising, and there is table tennis and pool. There are three study sheds on our podium terrace. Three areas have been created with plenty of seating, with dimmed colours and suitable lighting for the perfect ambience for students to feel at home.
Floors 23, 24 and 25 have been fitted out to create a more functional and attractive place to study – including the Sky Lounge, with panoramic views of the capital's skyline. There are additional booths for group study, single booths for quiet study and large tables with comfy seating to cater for all, with their own lighting options and multiple data and electricity points for laptops and gadgets.
The refurbishment took place over 10 weeks last year and students were able to remain living in the building.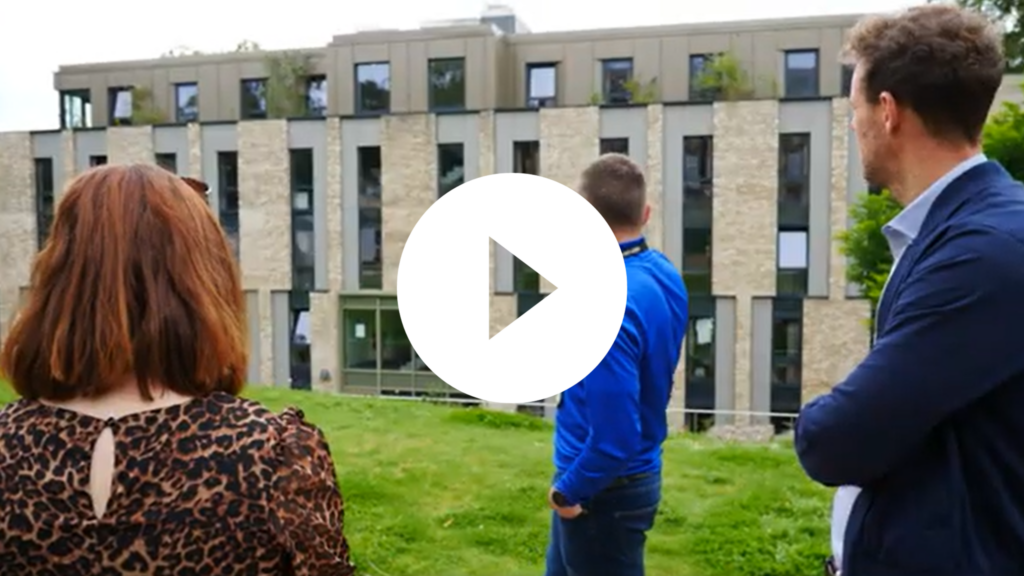 Enhancing Rushford Court, Durham
In partnership with Durham University, the project will improve and extend the 358-bedroom building, and a two-storey amenity hub will be built.
Rushford Court will be a temporary college from September next year before the intention is that it will become the university's 18th college.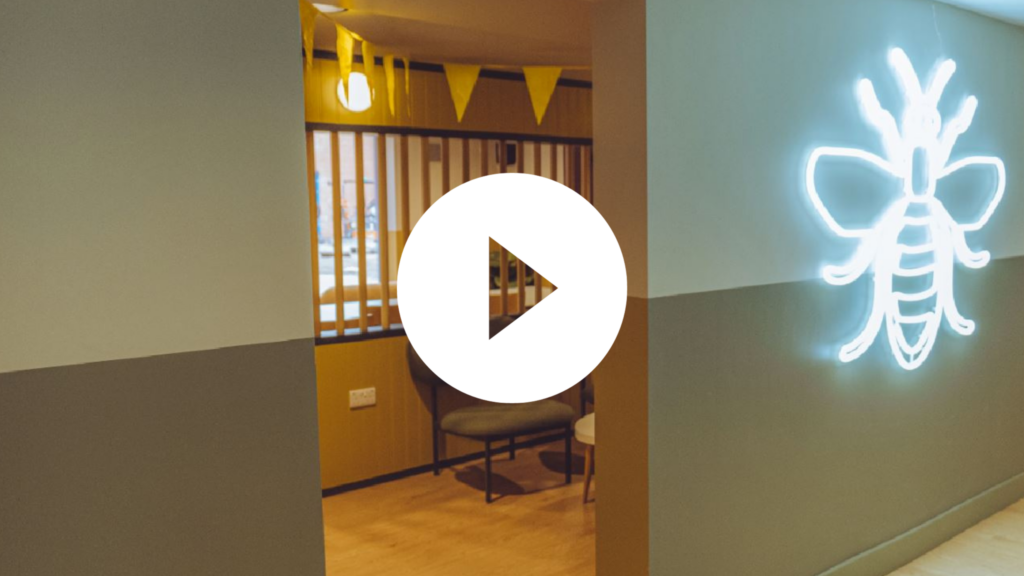 £65million refurbishment of three properties in Manchester
Refurbishment of three properties in Manchester – Parkway Gate, Kincardine Court and New Medlock House – was completed in time for start of 2022/23 academic year.
The £65 million project saw the addition of 137 new bedrooms, and improved sustainability throughout, including installation of air source heat pumps as well as the buildings benefiting from new social spaces, karaoke rooms, cinema rooms and gyms.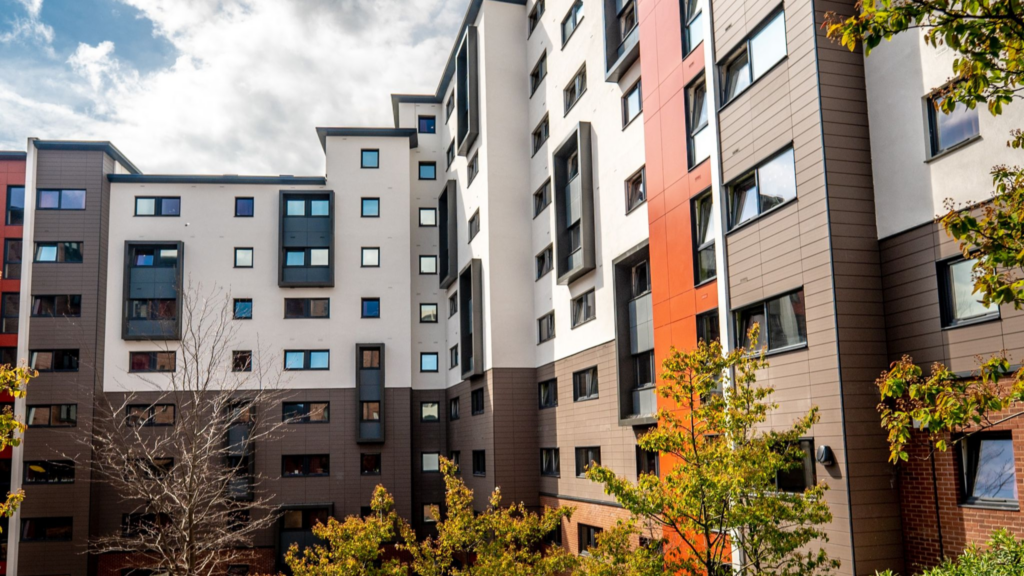 £9.4million refurbishment of one of our Newcastle properties
We replaced the external façade at Manor Bank, which is home to more than 500 students, who remained living there during the works.
The project, which was completed earlier this year, includes new materials to improve the safety and look of the building, which is located on Pandon Bank near the city centre.